Massage and Treatments Hastings
Hands-on healing massage with Abbie
Massage and Treatments Hastings
Hands-on healing massage with Abbie
Here at The Laindons providing an amazing, in-room, bespoke massage treatment tailored to your needs. Promoting wellness and relaxation on both mind and body. Using a range of techniques aimed at relieving tension and reducing pain.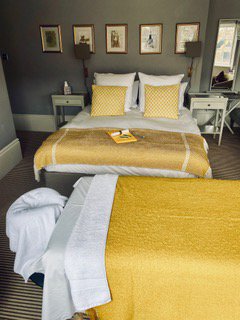 Relax, unwind and de-stress – in-house treatments now available.
The Laindons now offer in-house massage and a range of natural products mixed to meet your needs. Please ask about treatments when you book.
Head, neck & shoulders
Let your stresses melt away with this massage which focuses on relieving tension and stress held in the upper body & head, working over all of the areas, including stretches and pressure point work, leaving you feeling truly relaxed
and calm
30 minutes £45
Back, neck & shoulders
A massage to relax the areas we so often overwork and hold our tension. Softening the muscles and working into the deeper layers, easing restrictions and pain, and helping you feel like you again
30 minutes £45
Full body massage 60 minutes
This massage allows you to truly relax as I work around the body covering all areas from head to toe as you drift into a state of relaxation
60 minutes £90
Luxury hot towel facial
A facial is relaxing, uplifting and leaves you with refreshed, clear, glowing skin
Using natural, locally sourced products that have been chosen for their amazing benefits to the skin. The skin is cleansed and gently exfoliated, an uplifting massage to the face, neck & shoulders with stretches & pressure point work, a nourishing mask with a complimentary scalp or hand massage while the mask works into the skin, removed with hot towels and an amazing facial oil and moisturiser to finish
30 minutes £65
60 minutes £95
Facial and massage
Why not have the best of both, with this popular treatment combination
30-minute facial followed by a 30 minute back, neck & shoulders massage
60 minutes £100
Natural manicure
Relax and pamper your hands with the ultimate manicure
Nails shaped, cuticles tidied, aromatic hand scrub, nourishing hand mask, hot towels, cuticle oil, moisturiser
£35
Natural pedicure
Revive and pamper your feet with a soothing pedicure
Nails shaped, cuticles tidied, hard skin removal, foot soak with soothing vibrations on the soles of the feet, foot mask, hot towels, cuticle oil, moisturiser
£45
Please chat to us about massage and treatments when you enquire about your stay. Alternatively drop us an email to: welcome@laindons.com