Welcome to The Laindons Guest House
a boutique B & B in Hastings
Our beautiful bed & breakfast in Hastings located in the heart of the Old Town, The Laindons has always welcomed visitors and guests. Our gorgeous and impressive Georgian listed building began life as a coach house and we like to think we've continued the tradition of providing comfort as well as unexpected luxury to all who visit us. Our boutique guesthouse/B&B offers five luxurious rooms for you to choose from, all have beautiful high ceilings and filled with light and each have their own distinct character. When it comes to nice places to stay in Hastings, you have lots of choice, but if you want somewhere unique, a boutique hotel in Hastings Old Town (East Sussex), then you have come to the right place.
Booking your stay at our luxury guesthouse in Hastings
Please have a browse, you can check availability and book rooms online; if you need more information or have a special request, please don't hesitate to get in touch: 01424 437710 or email: welcome@laindons.com
'Happy days in Hastings'
"This is the place to stay in Old Hastings – perfectly located, extremely
comfortable, superb rooms, even better breakfasts, a warm welcome and
constantly attentive service. I cannot imagine a more pleasurable place
to spend a couple of nights."
Tom Fort, October 2019
Boutique B&B Hastings – Gift Vouchers
Are you looking for the perfect gift for a friend or loved one who deserves a special treat? How about a Laindons Gift Voucher. A stay at a boutique bed and breakfast in Hastings Old Town is the ideal gift for a special occasion.
Vouchers can be purchased for the full cost of your chosen stay, or for a monetary value that the recipient can put towards their booking. You can also add extras to the voucher for flowers, wine, or champagne etc.
Vouchers are valid for two years from the date of purchase, and we will post a personalised gift voucher to your chosen recipient.
To purchase vouchers simply email us at: info@thelaindons.com or call us on: 01424 437710
The Laindons, 23 High Street, Hastings, TN34 3EY, England
see us on a map
Email: welcome@laindons.com
You can also check our rooms below and book our boutique bed and breakfast in Hastings online
Many of the beautiful photos included on our website were taken by one our splendid guests, who just happens to be a professional photographer. David loved his stay at our bed & breakfast Hastings and decided to capture all the luxury using his amazing talent.
Thank you David Corio – www.davidcorio.com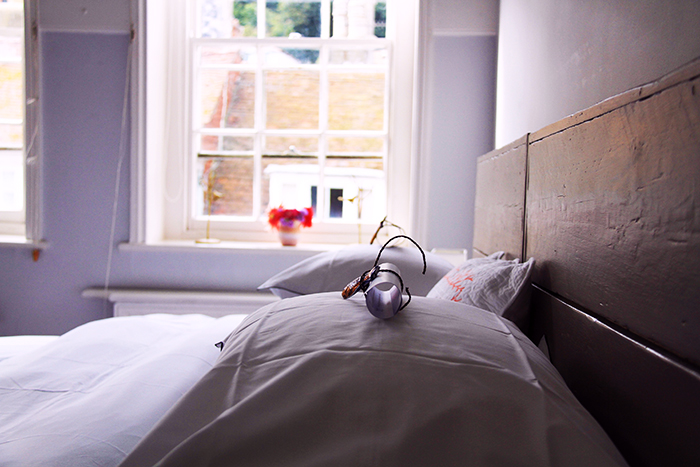 Coral Room
Room Rates
Mon-Thurs:
£130 Double
£135 Twin
£110 Single
Fri-Sun:
£145
This beautiful room has large sash windows over looking the historic High Street. The bed is Super King sized and can be made into twin beds if required. This room has an en-suite shower room with luxurious Nashi hair and skin products.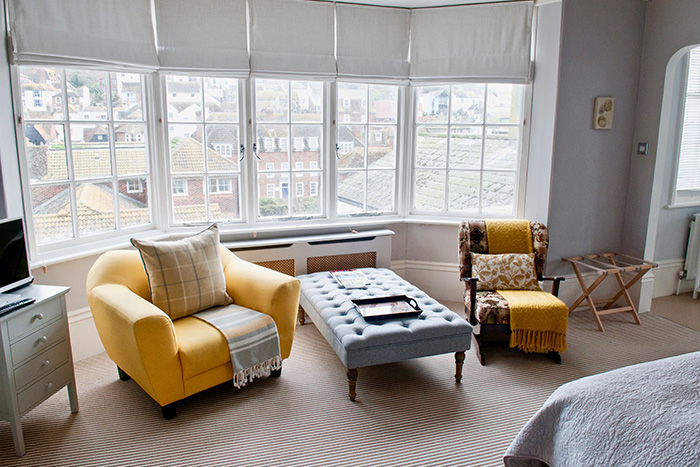 Yellow Room
Room Rates
Mon-Thurs:
£140 Double
£110 Single
Fri-Sun:
£165
This is a lovely big bedroom which includes its own seating area to enjoy panoramic views over Hastings Old Town, All Saint's Church and East Hill. Its King size bed is fitted with fine Egyptian cotton bed linen. The en-suite bathroom has a large corner bath and a separate shower cubicle.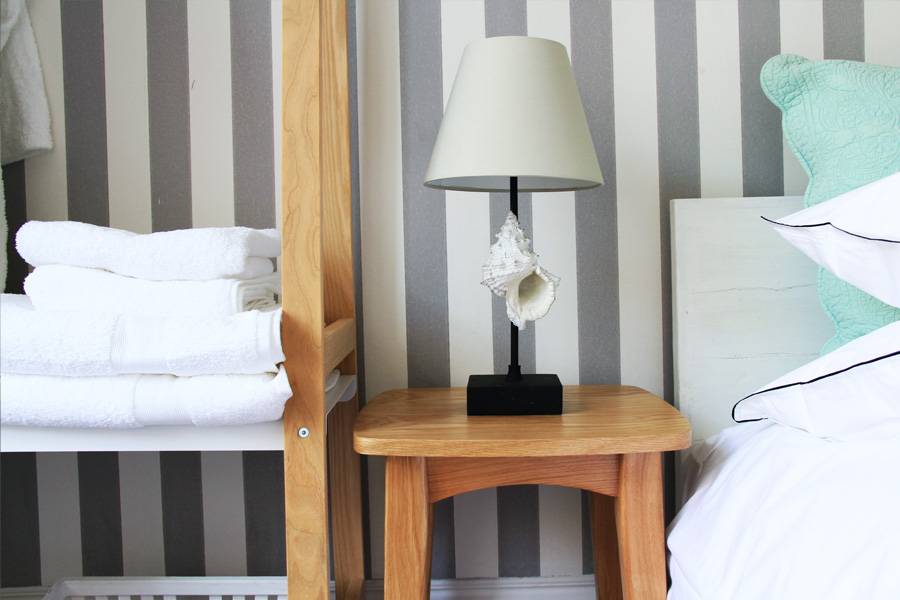 Green Room
Room Rates
Mon-Thurs:
£130 Double
£135 Twin
£110 Single
Fri-Sun:
£145
Our beautiful green room also overlooks Hastings historic High Street. The bed is Super King sized and can be made into twin beds if required. This room has an en-suite shower room with luxurious Nashi hair and skin products. Everything you need.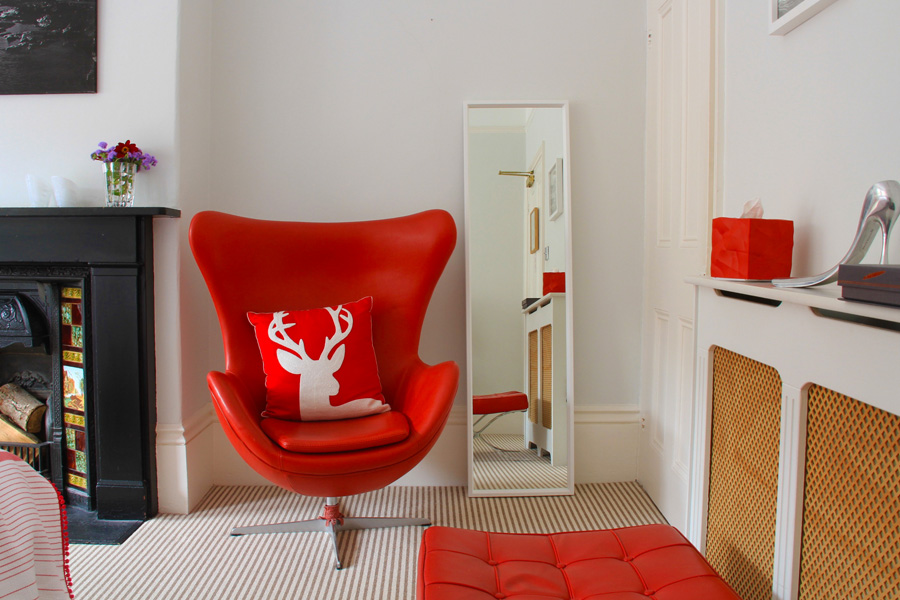 Red Room
Room Rates
Mon-Thurs:
£130 Double
£110 Single
Fri-Sun:
£145
Our Red Bedroom is glorious. It also has views over Hastings historic High Street which you can view through its large sash windows. The original fireplace is a charming feature of this tranquil room. The Red Bedroom has an en-suite shower room with Nashi products too.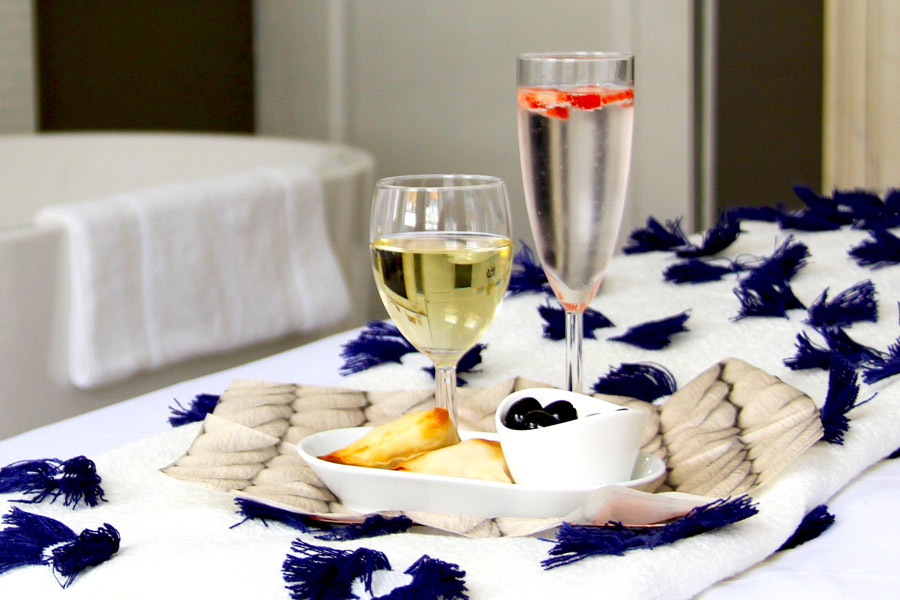 Blue Room
Room Rates
Mon-Thurs:
£130 Double
£135 Twin
£110 Single
Fri-Sun:
£145
This high ceilinged, light and spacious room has a King sized bed and a private freestanding bath in the room. It has its own separate private toilet and sink. Located on the 1st floor, your view though the original shuttered seated windows overlook the historic High Street. What's not to love.
"We stayed in the Yellow Room which was beautifully furnished and decorated. It had a big bay window facing the hillside sloping up to East Hill Country Park. The bed was large, very comfortable and with high quality linen. There was a lovely bathroom with a corner bath and shower. Lots of luxury toiletries including bubble bath which you don't often get and which I really appreciated. The room and bathroom were spacious, light and airy. As the sun went down all the houses on the hillside and the top of the hill went a red colour. A lovely sight.
Everything had been thought of – there were snacks on the landings and in the lounge for guests to help themselves on an honour system. There was a fridge with fresh milk and cold drinks. Also lots of board games, books and DVDs to borrow.
In the room we had delicious home made cookies, very good quality real coffee and Simon Coll chocolate sardines. Simon Coll is an little known but excellent chocolatier. A very nice touch!
We ate dinner at a very nice local fish restaurant on the recommendation of Karen, one of the owners.
Breakfast was in a light, garden type room on the side of the house with windows all around. We had the homemade granola with fruit and bacon, avocado and poached egg on toast. It was all delicious and was really fresh, high quality ingredients perfectly cooked."
camval, Cambridge, TripAdvisor, September 2018
FAQs (lots more coming soon)
Weekend Stay Policy
Martin Abel
2019-10-09T17:13:18+00:00
The minimum stay a weekends (Friday-Sunday) is two nights. One night weekend stays are at our discretion, so please contact us directly for consideration.
Children
Martin Abel
2019-10-09T17:11:21+00:00
Only children 10 years of age and above are permitted to stay at The Laindons. The venue is not suitable for young children and babies, please take note of this when booking. We thank you for your understanding.
Parking
Martin Abel
2019-10-09T17:16:46+00:00
Parking is easy at The Laindons bed & breakfast in Hastings. We do not have dedicated guest parking, but you can drop bags, then grab one of our free overnight parking permits. The permit allows you to park in car parks nearby and the Bourne Car Park is just 5 minutes walk away. The permits covers parking from 4:00pm to 11:00am the next day, for each day of your stay. If parking is required outside of these periods, guests make payment directly to the council via the various payment methods at the car park. The charges are very reasonable.
"Very welcoming hosts, in a gorgeous bed & breakfast Hastings. Great location in the Old Town which is as charming as our hosts. High quality B&B, rooms elegant, beautifully furnished but comfortable. Warm welcome, took us in late when there was 'no rooms at the Inn" anywhere. A welcome wine, lots of helpful info, the gorgeous outlook from the sunroom at breakfast while being entertained by Karen and Malcolm made it a great package." – MidwifeMez, TripAdvisor, 2018
"This review is the simplest we've ever submitted. Previous reviewers have not exaggerated the lovely rooms, the marvelous welcome or the care and interest of the hosts. We were greeted by Ian who took our bags to our room and set us up with parking permits. In the mornings Karen welcomed us to breakfast and nothing was too much trouble. Simply the best Hastings bed & breakfast we could have chosen." – UK-Italy-Fran, TripAdvisor, September 2018
"Very welcoming hosts, in a gorgeous bed & breakfast Hastings. Great location in The Old Town which is as charming as our hosts. High quality B&B, rooms elegant, beautifully furnished but comfortable. Warm welcome, took us in late when there was 'no rooms at the Inn" anywhere. A welcome wine, lots of helpful info, the gorgeous outlook from the sunroom at breakfast while being entertained by Karen and Malcolm made it a great package." – MidwifeMez, TripAdvisor, 2018
"This review is the simplest we've ever submitted. Previous reviewers have not exaggerated the lovely rooms, the marvelous welcome or the care and interest of the hosts. We were greeted by Ian who took our bags to our room and set us up with parking permits. In the mornings Karen welcomed us to breakfast and nothing was too much trouble. Simply the best Hastings bed & breakfast we could have chosen." – UK-Italy-Fran, TripAdvisor, September 2018
If you would like to be the first to hear about any great offers or Laindons news,
then please subscribe below:
If you would like to be the first to hear about any great offers for our beautiful bed & breakfast in Hastings, or interesting Laindons news,
then please subscribe below: