About your Laindons hosts – boutique guesthouse Hastings
About your Laindons hosts – boutique guesthouse Hastings
Hi there,
We're Karen and Malcolm Twist and it's always been our dream to have a guest house by the sea, so when we found The Laindons Guest House here in Hastings Old Town, it was everything we'd been looking for and we knew we found the perfect spot. We think we've created a boutique guesthouse in Hastings second to none.
So after thirty years as top end London hair stylists with a busy salon in South London, we packed up our scissors and decamped to the seaside; leaving the hustle and bustle of the Big Smoke behind us to build something we love and so we opened our doors and welcomed our first guests in 2017.
Our aim is to provide our guests with a place to escape and relax; be it a celebration, a break, a business trip, an excuse to explore or even just to spend some 'quality time'; we always try our best to ensure your stay with us is extra special, so you leave rested, content and recharged.
We think of it as 'Style on Sea' and when you visit for yourself, you'll understand why.
We look forward to welcoming you.
Karen & Malcolm Twist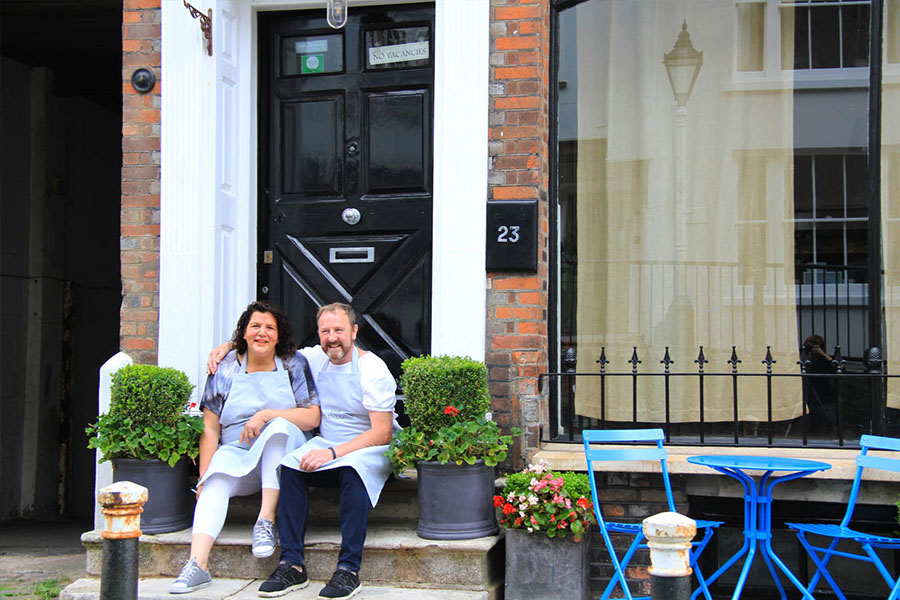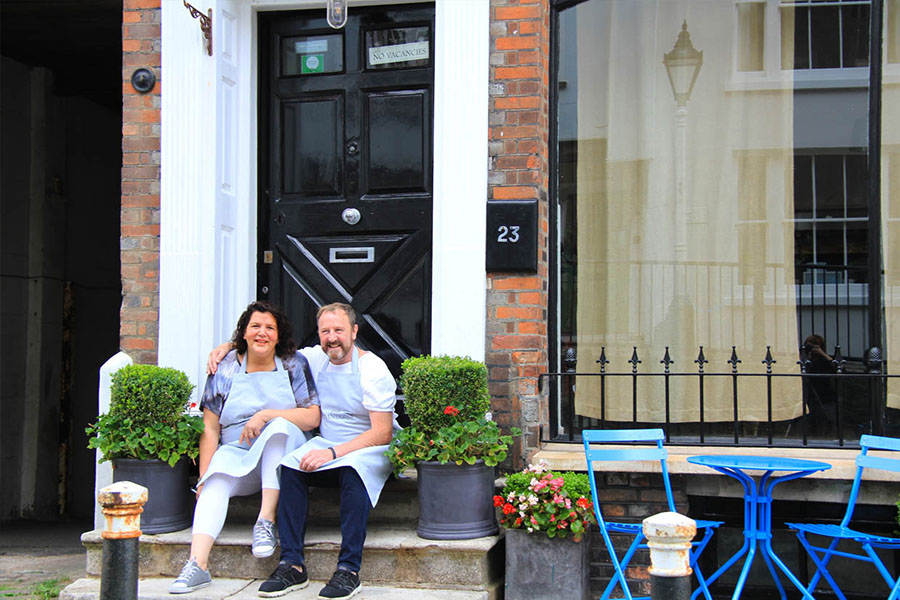 "We only stayed here one night and that was a shame as it is fantastic. We had a beautiful twin room with the most comfortable beds. It is the special touches that raise this place to an exceptional level, quality tea and coffee and what appeared to be home made biscuits. Good toiletries including a kit with anything you may have forgotten.
We met our hosts at breakfast and they were so welcoming. We both had the granola/yoghurt pots and the full English. The food was amazing and there is a good selection to choose from. We made sure we only left at the very end of our stay to maximise our time there.
Our stay also included a car park permit which started at 4 when we arrived until check out time, a real bonus.
We didn't take advantage of the honesty bar, having been out in Hastings old town but it is really nice to be able to have a drink when you want one. The decor is wonderful. The location is great too, in the middle of the old town near bars and restaurants.
This place is definitely worth every penny and I will be returning. Book now!!"
Helen W, London, TripAdvisor, March 2019
"A friend and I have just spent a long weekend at The Laindons and could not recommend this place more highly. Malcolm and Karen are hugely welcoming and friendly. The attention to detail is superb. The rooms are beautifully decorated with numerous extras – high quality shampoo, conditioner, shower gel and body lotion. Ear plugs, cosmetic wipes, sewing kits etc.
Each room has tea and coffee making facilities with TeaPig teabags. Fresh milk is available from little bottles in the communal fridge which also has cold bottles of water. The bed linen is from Draper London and cake is available to help yourself during the day. There is an honesty bar in a lovely sitting room where we enjoyed a couple of G&Ts before we ventured out each evening.
The breakfast was delicious and very high quality – highly recommend the homemade granola, yoghurt and fruit.
All is all a very high quality B&B that I would thoroughly recommend."
salb69, Guildford, TripAdvisor, March 2019
"Lovely weekend, staff were very pleasant and comical. The breakfast definitely worth getting up for
Malcolm was an absolute hoot, and would go again! Honesty Bar was well stocked, local area was full of exciting things to do"
Bill P, Dagenham, TripAdvisor, November 2018